It's no secret that running an e-commerce business can be a fantastic opportunity for stay at home parents.
With the advent of dropshipping, running an e-commerce business is easier than ever. You no longer have to have the space to store your products – there's only so much you can store in a spare room or garage. Instead, all you need is a computer and internet access and you can still run a successful online store.
However, the strategy you choose for your business and your products can be an important factor when it comes to determining how many customers you get, and ultimately how successful your e-commerce business is.
Whether you're trying to enhance your bottom line or get your new e-commerce business off the ground, the following tips will help you make a success of your business, so you can hopefully make a serious profit.
1. Design an Incredible Website
The first thing any successful e-commerce business needs is a great website. It's your shop window after all. Your site will help to let people know that they can trust you and demonstrate your professional nature from the moment people start browsing through your products.
A site that isn't optimized for customer conversions could be losing out on some serious sales.
Before you even launch your store, make sure that your site has everything it needs to serve your customers, for instance:
Are your product pages easy to navigate?
Do you have an "About" page to introduce your business?
Is your checkout simple and secure?
Is your site SEO-ready?
Do you have images throughout your pages to engage customers?
Are your product descriptions up to date and engaging?
If you're not sure how to take started or you need some ideas for a refresh, look at other sites in your niche for inspiration. While you shouldn't copy someone else's style, a little competitive analysis could be key to taking your business to the next level.
You can also checkout Creative Market to get inspiration or perhaps buy a ready made theme for your website.

Loading Preview…
Powered by Creative Market
2. Choose the Right Products
Picking the right products to sell is a crucial part of successful e-commerce. If you are selling your own handmade items and crafts or artisanal products, this is fairly easy for you as you'll simply want to showcase your own products to potential customers.
If you are going the drop shipping route, then more research will be needed but there are still plenty of options. For instance, on AliExpress, you can browse through some of the latest trending items and check out the reviews and order volumes for any item you're thinking of adding to your online store.
If the product reviews are high, the customer pictures look the same as the product picture, and the price suits your budget, you'll know you're on the right track.
Remember, it's important to be picky about the products you add to your store. While general marketplaces can work out sometimes, usually the best strategies involve picking a specific niche and building your portfolio in that area.
You don't want to be competing with the household names, you want to offer your customers something a little bit different whether that be the products or the buying experience.
Choosing a niche allows you to focus your efforts on a specific audience. This often leads to a higher ROI because your marketing efforts can be much more targeted.
3. Make Sure You Master Marketing
Many aspects of running an ecommerce business are automated. That's why it's so easy to run this kind of business and why it's a great option for busy moms.
However, just like with any other sales strategy, you'll also need to make sure that you invest plenty of time and effort into marketing your brand if you want to be successful. While stocking new products and playing around with websites is fun, it's marketing that's the real money maker. Think about:
Ads and search engine optimization to drive traffic to your store
Social media and email marketing to nurture leads and build relationships
Content marketing to show authority and entertain
The more traffic you bring to your website through your marketing efforts, the more opportunities for sales you'll get.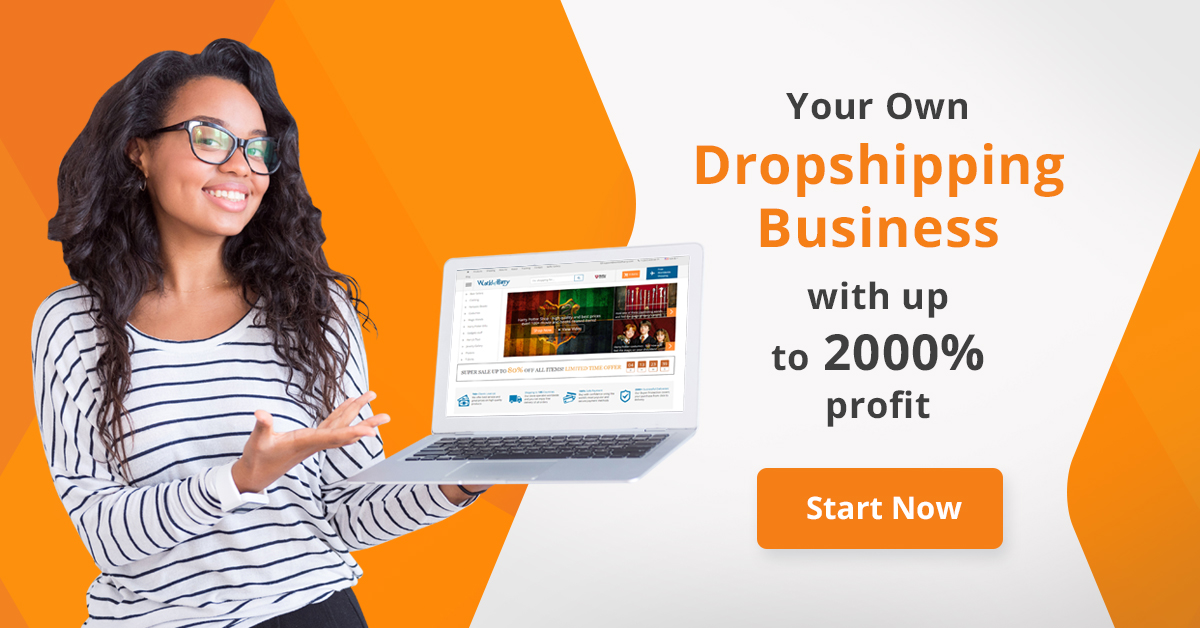 4. Build Trust with Reviews, Testimonials, and Ratings
No matter what you sell, in today's highly cynical and competitive marketplace, you should expect your audience to be skeptical about the quality of your products and this is especially true if you are just starting out.
Many of today's customers research a business online before they ever consider buying something from them. A great way to improve your chances of sales is to pack your website full of social proof.
Video and photo testimonials showing customers using your products are a powerful way to demonstrate the quality of your items.
On the other hand, standard reviews and star ratings can be enough to convince your customers that you're worth the investment.
The more social proof you develop for your website, the easier it will be for you to earn new and repeat customers. After all, trust is still the holy grail of marketing.
5. Offer Great Customer Service
Even if you sell the same products as other online stores in your industry, that doesn't mean you can't make your e-commerce business stand out.
One of the best ways to separate yourself from the crowd is with fantastic customer service. Responding quickly to customer inquiries, and offering refunds is a great way to get started, but it's going to take some real effort to make your brand memorable.
89% of businesses are now expected to compete solely on experience alone. If you want your customers to love you, build relationships with them. Send them a thank you note when they buy from your store or launch a social media strategy where you can engage in regular conversations.
Run monthly giveaways that are exclusive to people who have ordered from you in the past and do whatever it takes to make your customers feel valued.
Even if your clients don't fall in love with your products, they'll appreciate the way you make them feel. That kind of relationship leads to brand loyalty, and loyalty is a huge asset for any business both off and online.
6. Banish Bad Suppliers
One of the biggest challenges with e-commerce store strategy is finding the right suppliers to work with.
While there are some suppliers out there that are reliable, supportive, and high-quality, there's always a chance that a bad apple could slip through the cracks.
The good news is that there are thousands of people out there that you can turn to when you need to replace a supplier that's less than perfect.
If you notice that your suppliers are constantly shipping faulty products, or that they never get items to your customers on time, it's best to end the relationship fast.
The longer you spend relying on bad suppliers, the more likely you are to lose the respect of your customers and as we've just mentioned, trust and loyalty and both hugely important.
7. Be Dedicated to Your Business
Many new entrepreneurs turn to starting an e-commerce business because it's relatively easy to get started, and there are plenty of ideas out there when you need inspiration.
However, just because it all seems easy, that doesn't mean you should be any less than 100% committed. You are being trusted with people's hard earned money after all!
Running a brand of any kind requires regular, consistent effort. While running and e-commerce business might not need you to spend eight hours a day on the store itself, you will need to devote regular time to growing your sales and connecting with your customers.
Also, as you grow, you might end up hiring someone to work with you or working with an agency on some aspect of the business. That can also be time consuming, especially at first so you'll need to manage your time and ensure you are giving a 100% to keep things running smoothly.
The more you put into a business, the more you'll get out – it's as simple as that.
8. Keep an Eye on the Competition
Finally, if you want to ensure that your business is a success, then you'll need to keep track of the competition.
Follow your competitors on social media and monitor their websites. This will help to ensure that you're always one step ahead when it comes to filling the gaps that other organizations miss.
Watching your competition gives you a chance to adjust your pricing strategies when necessary, and even find inspiration for your content marketing and SEO efforts.
Just make sure that you don't take too many leaves out of your competitor's book. You don't want to look like you're stepping on their heels.
Ready to Make A Success Of Your E-commerce Business?
Just like with any business, strategy is the key to success with your online store. While there's no one-size-fits-all-strategy for running the perfect company, there are golden rules you can follow to improve your chances of success.
The tips above will help you to build, market, and maintain a brand that appeals to your customers, and should hopefully be enjoyable for you to run too.
Related Posts